WHO ARE THESE BATTLING ALL BLACKS ?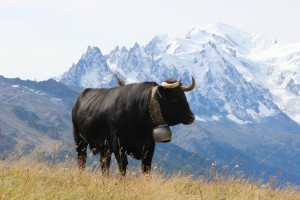 You think it's strange that cows should fight, and indeed most cows don't,  but the Hérens breed are unique!
Hérens is the name of a valley in the Valais Alps of Switzerland from whence these cows originate. They are robust, stocky, with solid horns, a majestic port and a fine eye. The particularity of these cows is that they fight to establish a hierarchy within the herd.
Traditionally, most families had a handful of cows, that grazed communally, in herds of 60 or more heads, the alpine pastures during the summer. Hence, after the long winter months, when the cows left the stable for their spring and summer grazing,  it was time for some serious head butting to establish who was boss.
This cow fighting is clearly a battle of wills and weight as the animals lock their horns and foreheads together and push with all their might!  The battles can last anything from 5 seconds to half an hour or more. Finally, the weaker of the two will admit defeat and beat a retreat. Some cows don't engage in the fighting – not everybody wants to be the boss!  The young heifers are usually very feisty and they and enjoy a bit of tussling between themselves, but needless to say, they will not contemplate taking on the heavy weights! It is very rare that the cows hurt each other, and if they do, it is only superficiel.
The first battles were organised in the Chamonix Valley in 1917 and they took place on the Col de Balme. The Hauts Savoyards invited their Swiss neighbours to a challenge. At the time there were around 250 cows grazing the pastures above le Tour and the majority of the cows were the black Hérens. Across the border, on the other side of the Cold de Balme were 3 thriving Swiss herds, just as keen as the Hauts Savoyards to throw down the gauntlet!  This was to be the beginning of many battles because the "Chamoniards" were as passionate about the Hérens race as the Swiss were.
Today, a handful of breeders maintain this tradition in the Mont-Blanc region. The Combat des Reines takes place at the end of September every year and rotates between Argentière (Le Tour), Servoz, Les Houches and Les Contamines.
On 22 September 2013 at Le Tour, over 100 Hérens cows took part in this years Match. It was a beautiful day and 1,500 spectators turned out to watch. The battles began at 10h30 with the young heifers and lasted through until sunset with the crowning of the Queen of Queens, a heavyweight cow, belonging to a breeder from Morzine, who weighed in a 691kg! Rdv next year in Servoz.. entry free.
Watch the video of the Combat des Reines in Le Tour – 22 September 2013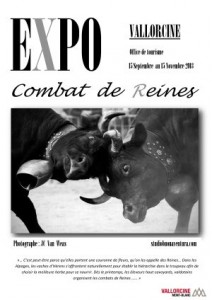 Visit the superb exhibition, by  photographer JC Van Waes, dedicated to the Hérens Queens.
Vallorcine tourist office from 15th September to 15th November 2013
Entry free. http://www.vallorcine.com/fr/agenda