Friday 13th September, 6pm to 8.30pm at the Bistrot des Sports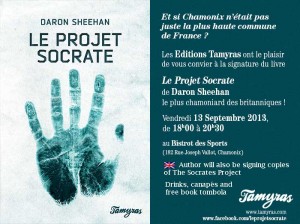 Meet Daron Sheehan, the author of this environmental adventure thriller and find out more about the Socrates Project.
Why Chamonix?
Daron Sheehan has a particular affection for the Chamonix Valley and spends a lot of time here enjoying the mountains with friends and locals guides!
Just as, in 1816, Mary Shelley was inspired by the Mer de Glace and subsequently began writing her novel Frankenstein, Daron Sheehan has chosen the beauty of the same glacier to stimulate  Sicad conciousness of nature!!  Hence, enlightenment comes to the hero of his novel during a perilous journey down the Mer de Glace.
The Socrates Project opens the idea of sustainability & environmentalism to a wider audience through a fictional adventure narrative – and is praised by environmentalists including Jonathan Porritt and Mark Shand!
The Socrates Project was officially launched in June at Artemis in  London and on MTV in Lebanon, so it is only natural that the next launch event should take place in Chamonix Mont-Blanc!  The book has the unusual merit of being published simultaneously in both English, by Nautilus Media, and in French by Tamyras.
Synopsis
The Socrates Project is a secret attempt by the United Nations to avert the predicted collapse of our civilisations. Simon Oceandis heads up the sicads, who must blend modern science and ancient wisdom to find the solutions before time runs out.
Not everybody welcomes the Project. An influential secret society plots to discredit and destroy the sicads. Torn between the love of a beautiful scientist and a fiery tribeswoman, Simon discovers an exotic world of adventure and wonder. To find the answers to save humanity, he must undergo a deep inner journey, yet his life becomes a frantic race for survival…
 "At best, this book can be a catalyst for change…" – Mark Beaumont, world record breaking cyclist 
Ambassador of The Socrates Project, environmentalist Mark Shand says: "This is a fantastic book, it is going to save the environment. The world needs more books like this."
Max Chaya, the Middle East's foremost climber and explorer is another Ambassador: "The Socrates Project is a mind-blowing rollercoaster of a novel, which blends gripping adventure with a voyage of discovery. A thrilling read for all ages, this is especially aimed at the next generation who must find the inspiration to come together, like the sicads, to solve these threatening challenges in real life. There is an Everest for Everyone, but this is one mountain we must all climb together!"
 Join Daron Sheehan for light refreshments  and a chat about the book. He will be giving away a few signed copies on the night.