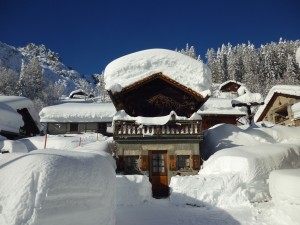 According to the locals, the total snowfall measured this winter at 1400m was 12 metres! Last snowfall to date in Chamonix on 29th May 2013! Surprisingly snowfall at higher altitudes (2,000m) was 12.5 metres, so not much more than in the villages of Montroc and Le Tour. A very long, very snowy winter which has extended well into spring.
The quantity of accumulated snowfall is greater than winter 2011/12, which was already a great season (11 metres at 2,000m), but considerably more than previous winters where the average total snowfall was 7 metres at 2,000m.
We asked local glaciologist Luc Moreau whether these two successive long winters were likely to have an impact on the receding glaciers… "Over the past two years, we have had winters resembling those between 1970 – 80, when the glaciers were very healthy. If the glaciers are to benefit from this snow, the summer needs to be neither too hot, nor too long! For the past 20 years summers have been hotter and 80% of  the snowfall above 3,000 metres has been melting, hence the regeneration of ice is considerably diminished. Ideally we need lots of winters like this one, and summers that aren't too hot"
So far, so good… we didn't suffer from the heat in May

!
Another well known figure in the valley is Joel Devouassoux. In winter his days often begin well before dawn and finish when the job is done, as he snowploughs around the clock to ensure that skiers can make fresh tracks elsewhere than in the lift car parks ! Joël has been clearing snow  for 43 years and he proudly exhibits his customized jacket at every occasion!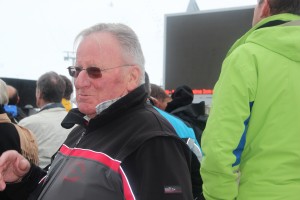 A consequence of this long hard winter is that there is still snow above 1600 metres (particularly on the north facing slopes) and many mountain trails are not yet accessible to walkers, or require specific equipment for crossing snowy couloirs. It is strongly recommended to visit one of the Chamonix Valley tourist offices or the OHM (High Mountain Office) in Chamonix to find out where one can walk safely, without taking unnecessary risks.
Whilst out walking, you may encounter one of these hardy Ibex, looking for something juicy to chew on!  The mountain fauna are hungry and the vegetation is later than usual, so they are grazing quite low! If they are blocking your path, give them a wide birth, they can be agressive if they feel threatened, but otherwise they will ignore you.