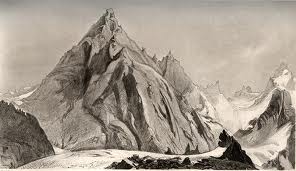 Blaitière mountain pastures are located beneath the Aiguille de Blaitière, on the north facing side of the valley. This pasture land was exploited by peasant farmers from the middle ages up until the 1950′s. The land and farm buildings were then pretty much abandoned until the turn of this century. Lower Blaitière is situated at 1708 m altitude and Upper Blaitière at 1920 m.
These alpine pastures can be reached from Chamonix (Grepon car park) in between 2h to 3h (lower and upper Blaitière). Alternatively, take the cable car to  Plan de l'Aiguille and you have an easier traverse and then downhill walk – 1h à 1h30.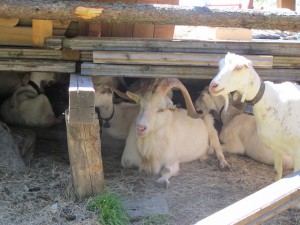 Pascal Payot is the gardian of this alpine paradise, along with his herd of 40 Saanen goats. Meet them at lower Blaitière (Blaitière-Dessous) until mid September. As the weather cools and the grazing diminishes, the troops will regain their winter quarters at their farm in Les Houches ferme des Houches
Since  2000, Pascal Payot has been partaking in the restoration of the farm buildings and the pasture land with a view to reviving mountain farming in the Chamonix Valley. Blaitière was grazed by young heifers between 2001 and 2006 and goats have been  unwittingly improving the quality and biodiversity of the pastures since 2007. In the summer of  2008, with the help of the municipality, the 'alpage' was finally equipped with a milking parlour and dairy. So now you can buy your goats cheese straight off the mountain!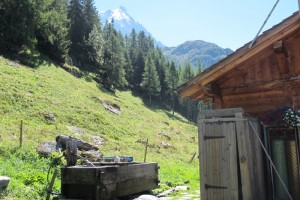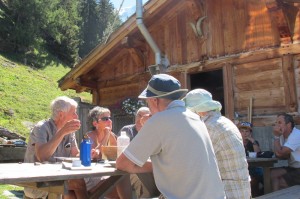 Since  2005, the buildings at lower Blaitière are supplied with solar energy. An installation of 26 photo voltaic panels provides 80% of the power needed for the farm.
The most recent innovation is a mini cable way between Chamonix the Alpage with a capacity to transport up to 400kg. The 700m elevation from the valley floor is covered in 15 minutes.  Pascal no longer relies on supplies by helicopter and his cheese production finds its way to local restaurants and shops on a regular basis!
If you can't make it to Blaitière this summer, make sure you visit Pascal Payot at his farm in Les Houches . He serves delicious high teas and will be delighted to introduce you to his goat family and tell you a bit about his work and passion.