14th and 15th September 2013 – 1st edition of the 24 heures VTT de Chamonix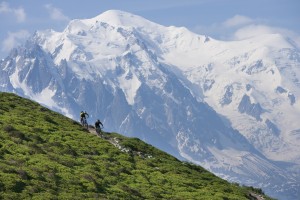 The 24H VTT de Chamonix race will take place on a 12km circuit with a positive vertical gain of 300 metres. The loop will alternate between rolling and very technical portions, less than 5% will take place on asphalt. Sounds easy… but this is an endurance race and 24 hours is a long time in the saddle!
The departure point is the Chamonix paragliding area, located beyond the Maison des Sports. The course climbs gradually through the Bois du Bouchet and the Désert Blanc, then follows a loop on the Norvège trail to the Sources de l'Aveyron, before returning to the Désert Blanc and back to the start of the circuit.
There is a solo race (minimum age 23 years) and team races for 2, 4 and 6 persons, plus a tandem category. Minimum age for the team races is 19 years.
The number of competitors is limited to 1000 persons, so if you're interested, register a.s.a.p!
For keen young bikers, there is a shorter race:
3H VTT de Chamonix
MTB team race of 4 racers, who will relay for 3H on a 12km loop. Open from U15 to U18 categories. Limited to 100 racers.
registration