Chamonix, mountain sports capital, can also be conducive to relaxation! ! Check out these special offers: Pools, Spas, open air Jacuzzis, fine dining and tea time treats!

LUNCH AND SPA
The following establishments propose a gourmet lunch which includes access to their Spa facilities: pool, hammam, sauna, jacuzzi.
Deep Nature Spa et Restaurant l'A -  Hotel les Aiglons, Chamonix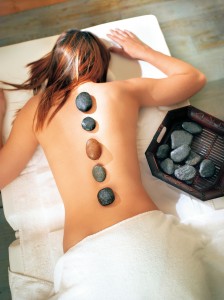 Lunch on the terrace with views of Mont-Blanc and access to the Spa and superb outdoor pool
Luncheon = choice of starter and main course or main course and dessert: 22.50 €   (55.50€ to include a 25 minute massage)
Reservations: +33(0)450 559 093  Spa open from 10h to 20h
Spa Serenity – Parkhotel Suisse, Chamonix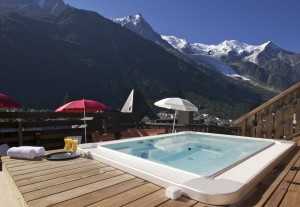 Enjoy lunch in the traditional Parkhotel restaurant and discover the roof top Serenity Spa and terrace in the very heart of Chamonix with 360° views!
Luncheon = Starter and main course 20€ , with dessert 23€ Reservations: +33(0)450 530 758
Caudalie Spa and Crystal Restaurant – Les Granges d'en Haut, Les Houches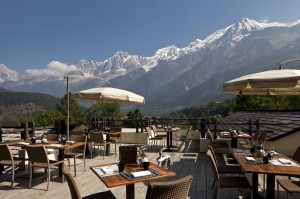 Enjoying an exceptional location above the village of Les Houches,  the Crystal restaurant and the Caudalie Spa and pool are most definitely worth the trip!
Luncheon = starter, main course and dessert: 35€
Reservations:  +33(0)450 546 536
LUNCH TIME POOL SNACKS AND TEA TIME TREATS – a few suggestions
Charamillon mountain restaurant – Balme mid station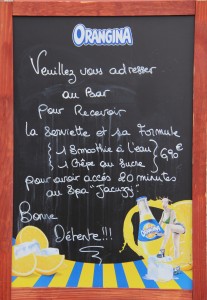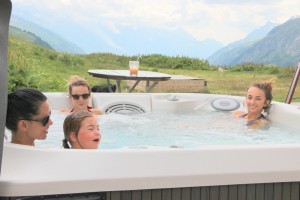 Take the gondola lift up from Le Tour (45 minutes on foot if you walk up), and don't forget your bikini or trunks!
Enjoy a 20 minute exclusive jacuzzi, a smoothie of your choice and a pancake, for  unbeatable value: 6.90€ (towel provided)
Reservations not necessary – Jean (John)  is the charming host at Charamillon.
Hotel Excelsior swimming pool – Les Tines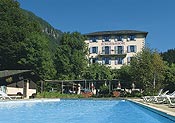 Take advantage of this delightful pool which enjoys an enviable location in the hamlet of Les Tines (3 km north of Chamonix)
The Excelsior pool side offer includes: Pool entry, a soda or a beer, a snack (sandwich, hot-dog or croque-monsieur) and an ice-cream. Adults: 13€  Children 5 to 12 yrs: 9€
Chamonix Swimming Pool – Centre Sportif Richard Bozon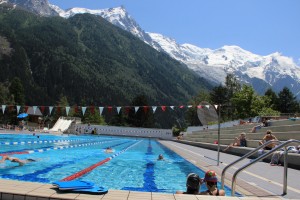 For a municipal swimming pool and Spa, this must take some beating! Olympic size oudoor pool with Mont-Blanc views, 2 indoor pools with reserved children's area, outdoor paddling pool and fun play area, large covered slide, lakeside lawns with snack bar… and a Spa which includes sauna, hammam, jacuzzi…
Entrance to Spa and Pool: 12.50€ open daily from 10h to 19h
Hameau Albert 1er – Spa, pool, terrace and tea time – Chamonix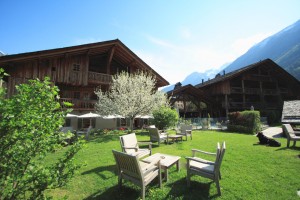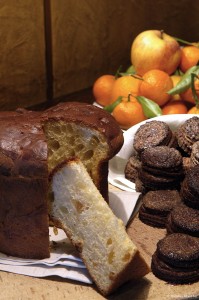 If you have a sweet tooth, this is the place for you!
The traditional farmhouse restaurant of the Maison Carrier is reputed for its "vrai"!An alpine pudding trolley that has to be seen (an savoured) to be believed! Tea time on the terrace is served between 15h and 18h. Self-serve buffet: 12.50€
The gardens of the Hameau Albert 1er are also open to the public for refreshments. Access to the swimming pool is reserved for guests of the Spa "Le Bachal".
Reservations:  +33(0)450 530 509