From Friday 9th August until Sunday 11th August – the first edition of an eco-friendly festival which celebrates music, art, cultures and traditions from around the world.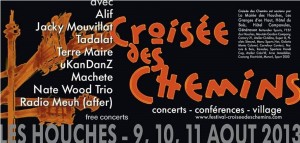 The Croisée des Chemins" Festival was conceived by Jacky Canton Lamousse, who took his inspiration from the Desert Festival in Timbuktu, Mali.
Jacky was profoundly moved by the spirit of the "Desert Festival" and its capacity to unite 54 nations in a subliminal musical communion!
From the desert to the mountains… nothing crosses borders nor travels more easily than music! And what better mountain location than the Chamonix Valley to host this international gathering.
The festival takes place in the village of Les Houches, in 3 idyllic locations:
The Chavants lake – Festival village with arts and crafts exhibits, conferences and evening concerts : Friday 9th at 9pm, Saturday 10th at 9pm and Sunday 11th at 4pm
Prarion top lift station – Opening concert on Friday 9th August at 2pm
Merlet Animal park – Concert on Saturday 10th August at 3pm
A total of 5 concerts, uniting occidental and oriental influences through the universal language of music:
UKADANZ -  TERRE MAIRE – ALIF -  TADALAT – JACKY O'STICK
Programme in English Doc de presentation UK (1)
Find out more about the musicians, the conferences, the village on the festival  Facebook page
Practical information: All concerts are free of charge excepting the access to Prarion cable car (if you don't want to walk up) and the entrance to Merlet animal park.
Festival Badge: You can support the festival by purchasing a badge for 10€. This gives you free access to Merlet, 50% reduction on lift ticket to Prarion and 30% reduction on drinks at Prarion mountain restaurant. Badges available at the Chavants village or at Les Houches tourist office.
Watch the presentation video
Festival Croisée des Chemins – teaser #01 from Godefroy de MAUPEOU on Vimeo.
Facebook page with information in English