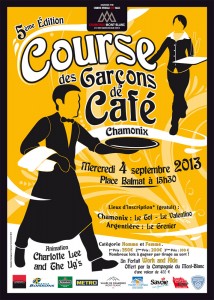 Tomorrow, 4th September, the 5th edition of the Waiters Derby will take place in the streets of Chamonix. Not as high profile, nor as hi-tech as the UTMB… aprons and white jackets are de rigueur instead of lycra, the distance does not exceed 2.2km… but my goodness there will be no sleeping nor dropping bottles on the way!
This traditional race was revived in 2008 after a timelapse of around 70 years, thanks to the initiative on the Chamonix Hotels Syndicate.
Take a look at the video link below which dates back to 1930 and see how much of Chamonix you recognise!
In the 1920′s and 30′s  the race took place on cross country skis!  1 bottle, 1 glass and a ski pole for propulsion. One can but wonder about the state of the skis, but they're certainly having fun!
Today's waiters take on 2  glasses, 1 bottle with an extra bottle added en route. The race begins Place Balmat in front of the post office and takes in the rue Paccard, ave Aiguille du Midi, rue du Lyret, Chamonix station, quai des Moulins, rue Vallot and finish at Place Balmat.
70 + participants are expected on 4th September and they will be representing many of Chamonix's establishments.  The winning waiter and waitress both receive a prize of 350 euros for their skills. A hand carved wooden trophy goes to the winning establishment.
The race is followed by a convivial buffet and tombola for all participants. Prizes include a seasonal winter lift pass, a helicopter flight over the Mont-Blanc Massif for 6 persons and many other generous donations from Chamonix businesses.
Live concert with the excellent local group: Charlotte Lee and the Ug's
When: Tomorrow 4th September at 3pm
Where: Place Balmat
Registration: Café Valentino – place Balmat
Fee: free of charge