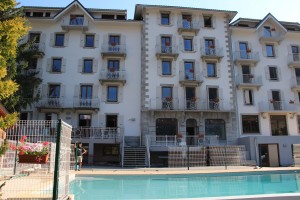 The UCPA Les Glaciers holiday centre, located in the village of Argentière will re-open on 22nd July 2013 after extensive renovations which will have lasted 14 months. Only the 19th Century façades of the original building have been conserved, the interior has been completely gutted and rebuilt for a total cost of 11 million euros.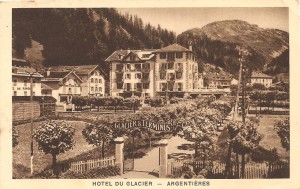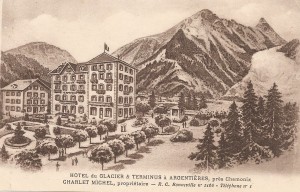 The hotel les Glaciers was built in the late 1800's and extended when the train arrived in Argentière in 1906. It then became the Hotel Glaciers and Terminus and was one of Argentière's leading hotels. It was purchased by the UCPA (National Union of Outdoor Sport's Centres) in the 1970's. The building has now been restored to its former glory but with modern comforts. The end result is stunning!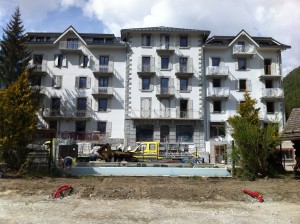 The renovations were necessary in order to fulfill safety and hygiene requirements and to improve the general facilities. The new building includes a superb restaurant, bar, leisure and conference rooms, a fitness area, an indoor climbing wall and a sauna.
The building is able to accommodate up to 300 young people, aged between 14 and 39 years, for various sporting activities.  The UCPA is operated by a staff of 60 persons, which includes 30 guides and instructors and 6 monitors who look after the juniors.
Summer activities include mountaineering, rock climbing, multi sports, hiking, MTB Biking, Trail running and even dancing! Activities in winter include Ski and Snowboard, off-piste, ski touring, cross-country skiing and snow shoeing.
The UCPA les Glaciers enjoys a prime location in the centre of Argentière, adjacent to the local railway station. Within the grounds are an outdoor pool, a Volley ball court and a wooded park area.
Adjacent perspective of the grounds.
New UCPA activity this summer : Trail running school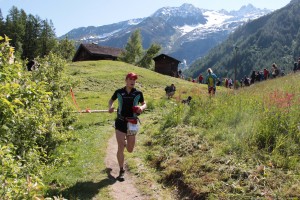 The label Vallée du Trail was initiated by the Chamonix Mont-Blanc Valley in the spring of 2012. A logical evolution for a destination which attracts ultra marathon runners from all over the world. Trailers can now make use of 18 superb waymarked routes of varying lengths and positive elevation, reserved specifically for their use.
As a partner of the "Vallée de Trail" the UCPA offers a number of all-inclusive trail running courses, from beginners to coaching for the big races. New this year is the possibility to train with the UCPA throughout the summer without booking accommodation. Various formulas are available from age 12 years upwards.
UCPA Argentière
170 rue Charlet Straton – Argentière – 74400 Chamonix
Tél. : 04 50 54 07 11
Courriel: argentiere@ucpa.asso.fr