Kilian Jornet, champion in the domains of ski alpinism and ultra trail running, has just set a new record, on foot, for the ascension of Mont-Blanc (4.810 mètres). Last Thursday 11th July 2013, he made the round trip – Chamonix to the summit and back in 4 hours, 57 minutes and 40 seconds.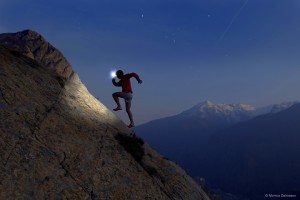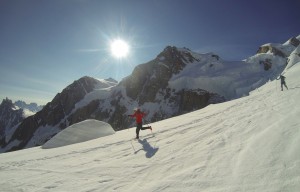 Kilian (25yrs) set off at 4H46 in the morning from the church in the centre of Chamonix (1.037 metres d'altitude), wearing nothing but shorts and trainers! It took him 3H30 to climb the 3.773 metres positive elevation leading to the summit of Mont-Blanc. A final sprint through Chamonix saw him back at the church at 9H43!
The young ski-alpinism champion, Mathéo Jacquemoud, 22 yrs, who was  also attempting the record (this time without skis) alongside  Kilian, had a fall on the way down and injured his thigh so was sadly unable to continue. See previous article about Mathéo.
"The snow conditions were good. This helped for the descent as we were able to slide on our backsides and run", explained Kilian Jornet on his arrival in Chamonix. "It's a pity Mathéo didn't make it. We ran virtually the whole way together. I think the record belongs to both of us, even if Mathéo didn't quite make it to church" added kilian.
Climbing Mont-Blanc is usually a question of 2 days, with a night in either the Gouter, Grands Mulets or Cosmiques huts, subject to the chosen route.
The Mont-Blanc record is the first phase of Kilian Jornet's project Summits of My Life which involves 8 legendary climbs in record times, using light mountaineering and trail running techniques. This year, Kilian Jornet will attempt the ascension of Mount Elbrouz (5.642 mètres) in Russia in less than 3h23 min and then the Matterhorn (4.478 metres) from the Italian side in less than 3h14 min. The ultimate challenge in the series will be Mount Everest (8.848 metres), programmed for 2015. The existing record for the climb is 20 hours and 24 minutes. The project will be illustrated with a series of 4 films produced by Sébastien Montaz-Rosset.
In addition to being World Champion of Ski-Alpinism, Kilian Jornet has won the UTMB (Mont-Blanc Ultra Trail) 3 times (168 km et 9.600 metres positive elevation). That's no mean feat!